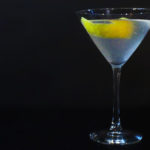 Meyer Martini
Highlight the citrusy elements of the gin-heavy classic by adding a little Meyer Lemoncello to the mix! Our unique limoncello adds a touch of sweetness and luxurious texture. Spy or not, you'll enjoy the Meyer Martini.
Ingredients
2 oz gin (can substitute vodka)
0.5 oz dry vermouth
0.5 oz Meyer Lemoncello
Optional: dash of Angostura bitters
Method
Combine gin, dry vermouth, and Meyer Lemoncello in a mixing glass with ice. Optional: add a dash of Angostura bitters.
Stir and strain into a glass (ideally a chilled martini glass!)
Garnish with an olive or lemon slice...or if you're feeling zesty, both.