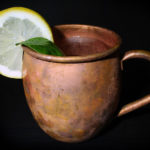 Brooklyn Mule
Bringing the Moscow Mule stateside, the Brooklyn Mule revitalizes the cocktail's traditional recipe by incorporating Gingercello instead of ginger beer. For a less sweet variation, swap the ginger ale for sparkling water.
Ingredients
1.5 oz vodka
2 oz Gingercello
4 oz ginger ale
1 oz lime juice
Method
Combine Gingercello, vodka, and lime juice in a cocktail shaker with ice.
Shake and pour into a mug (ideally a copper mug!)
Pour ginger ale (or sparkling water for less sugar) and stir.
Garnish with a lime wedge.