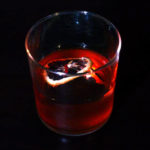 Blood Orange Negroni
We've got to applaud Count Camillo Negroni for walking into a bar in 1919 Florence and asking for an even stronger version of an already all-booze cocktail, the Americano. Adding gin to the classic Campari + sweet vermouth drink created a brisker and more complex aperitif. We've upped the ante on the drink's orange bouquet by adding our Blood Orangecello. Saluti!
Ingredients
1.5 oz gin
0.5 oz Blood Orangecello
0.5 sweet vermouth
0.5 Campari
Method
Combine Blood Orangecello, gin, sweet vermouth, and Campari in a lowball glass with ice.
Stir for at least 5 seconds.
Garnish with an orange peel or orange slice.