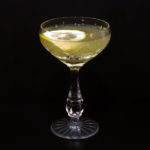 Bee's Knees
The Bee's Knees, if you couldn't tell by the name, is a Prohibition Era cocktail. Made with neither bees nor knees, this zippy cocktail combines the floral background of gin with the puckering punch of lemon. Our version heightens the complexity by replacing honey syrup with Meyer Lemoncello, letting its floral notes truly shine.
Ingredients
1.5 oz gin
1 oz Meyer Lemoncello
1 oz lemon juice
Method
Combine gin, Meyer Lemoncello, and lemon juice in a cocktail shaker with cracked ice.
Shake until well-chilled (at least 5 seconds).
Strain into a coupe glass and garnish with a lemon slice.