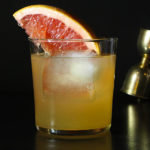 Bay Ridge
The Bay Ridge hails from southwestern Brooklyn. Like its namesake neighborhood, this cocktail packs the perfect punch of brightness and spice. Gingercello transforms this modern take on a Penicillin.
Ingredients
2 oz. rye whiskey
2 oz. Gingercello
1 oz. lemon juice
0.5 oz peaty scotch
grapefruit slice
Method
Combine whiskey, Gingercello, and lemon juice in a mixing glass with cracked ice.
Stir vigorously then strain into a lowball glass with a large ice cube.
Float the peaty scotch: either spray it from a small spritzer or pour it over the back of a spoon held over the lowball glass.
Garnish with a grapefruit slice.